Section 9
Displayed Material, Attributions,
and Source Information
9.1     Fundamentals
9.2     Format for Displayed Material
9.3     Epigraphs
9.4     Attributions
9.5     Source Citations and Permission to Copy
9.6     Cross-References and Incidental Notes
9.7     Correspondence and Diary Entries
9.8     Samples
9.1.1
Displayed material appears within the flow of regular text and is set off from the body of the text by blank lines, change of margins, or emphasis. Pull quotes are material restated from the body of the text. These are typically larger and use a distinctive font attribute. They are not repeated in braille.
Example 9-1: Displayed Material (Print Only)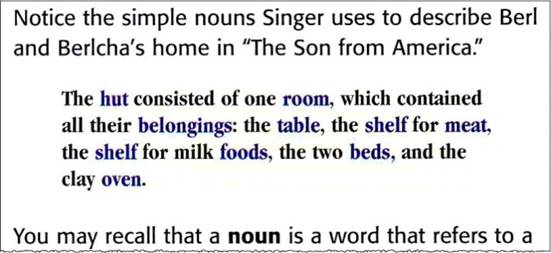 Example 9-2: Pull Quote (Print Only)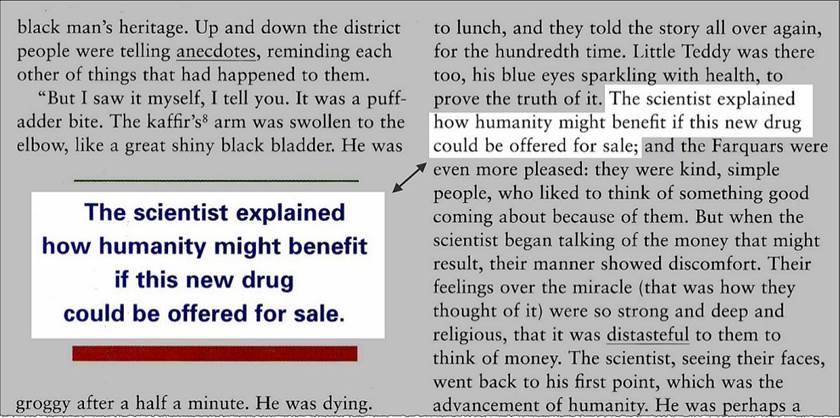 For formatting purposes, lists, boxed material, and tables are not considered displayed material. Exception: Lists within displayed material are part of that displayed material and must use adjusted margins. (See Formats, §7, Boxed Material; §8, Lists; and §11, Tables and Related Columns.)
Note: Text displayed in the margin is considered a sidebar. (See Formats, §12, Sidebars.)
9.1.3
A Braille Reader's Perspective. When doing a finger scan down the left margin, remember that the blank lines before and after the text signal to the reader that the material is set apart from the surrounding text.
9.2.1
Transcription of displayed material needs to maintain the difference shown in print between the regular text and the displayed text.
9.2.2
The adjusted margin is 2 cells to the right of the runover position for the material that precedes displayed matter. Use cell 3 as the adjusted left margin for most displayed material. To accommodate various print formats, it may be necessary to change this left margin for some types of displayed material, e.g., displayed material within a nested list that has margins 1-7, 3-7, 5-7 would begin in cell 9. The goal is to provide clarity and readability while reinforcing the distinction from the surrounding text.
a.  Insert a blank line before and after displayed material.
b.  Do not insert blank lines between individual items in displayed material unless required by other formats, e.g., between a heading and a paragraph.
c.  Headings. Cell-5 and cell-7 headings within displayed material are based on the adjusted left margin. Consequently the margins for cell-5 headings are blocked in 7-7, and cell-7 headings are blocked in 9-9. Centered headings remain based on the non-adjusted left margin, i.e., the full width of the line. However, there must be at least three blank cells between the adjusted left margin and the centered heading.
d.  Blocked paragraphs are blocked at the adjusted left margin; indented paragraphs begin 2 cells to the right of the adjusted left margin.
e.  Multiple displayed sentences are treated as a list beginning at the adjusted left margin; e.g., if the adjusted left margin is 5, displayed sentences would be placed with margins 5-7.
Example 9-3: Displayed Single Sentence

,9 ! ?ird p]son1 ! correct =m is
.1doesn't1 :e!r ! subject is s+ul> or
plural4

⠀⠀⠀⠀⠀⠀⠀⠀⠀⠀⠀⠀⠀⠀⠀⠀⠀⠀⠀⠀⠀⠀⠀⠀⠀⠀⠀⠀⠀⠀⠀⠀⠀⠀⠀⠀⠀⠀⠀⠀
⠀⠀
,ca?y "<doesn't1 don't"> l movies )

⠀⠀
sad 5d+s4

⠀⠀⠀⠀⠀⠀⠀⠀⠀⠀⠀⠀⠀⠀⠀⠀⠀⠀⠀⠀⠀⠀⠀⠀⠀⠀⠀⠀⠀⠀⠀⠀⠀⠀⠀⠀⠀⠀⠀⠀

,! correct =m is .1doesn't3 ,ca?y
.1doesn't l movies ) sad 5d+s4

⠀⠀⠀⠀⠀⠀⠀⠀⠀⠀⠀⠀⠀⠀⠀⠀⠀⠀⠀⠀⠀⠀⠀⠀⠀⠀⠀⠀⠀⠀⠀⠀⠀⠀⠀⠀⠀⠀⠀⠀
⠀⠀⠀⠀,respectively & ,respect;lly
.1,respectively m1ns 8sep>ately0 or 444

⠀⠀⠀⠀⠀⠀⠀⠀⠀⠀⠀⠀⠀⠀⠀⠀⠀⠀⠀⠀⠀⠀⠀⠀⠀⠀⠀⠀⠀⠀⠀⠀⠀⠀⠀⠀⠀⠀⠀⠀
⠀⠀
,! "picipants 9 ! debate 7 ,st4
⠀⠀⠀⠀,lawr;e ,hi< ,s*ool & ,delphi ,hi<
⠀⠀⠀⠀,s*ool1 .1respectively4

⠀⠀
,! /ud5ts .1respect;lly /at$ _!
⠀⠀⠀⠀>gu;ts4

⠀⠀⠀⠀⠀⠀⠀⠀⠀⠀⠀⠀⠀⠀⠀⠀⠀⠀⠀⠀⠀⠀⠀⠀⠀⠀⠀⠀⠀⠀⠀⠀⠀⠀⠀⠀⠀⠀⠀⠀
f.  Displayed material may be relocated to the end of a paragraph when it interferes with the flow of text. If the page has no paragraph breaks, the displayed material may be placed at the end of a sentence.
(See Sample 9-1: Displayed Quote on page 9-12.)
9.2.3
Font Attributes in Displayed Material
a.  Retain font attributes when individual words or phrases are emphasized. Follow print for emphasis used.
b.  Omit font attributes when the entire section of displayed material is emphasized.
(See Sample 9-2: Italicized Displayed Verse on page 9-13.)
9.2.4
Format for Displayed Short Word Lists. Horizontal word lists across the print page must fit on a single braille line, with each word separated by a blank cell. (See UEB, §3.23.1, Space.) Present phrases vertically. The first word begins at the adjusted left margin.